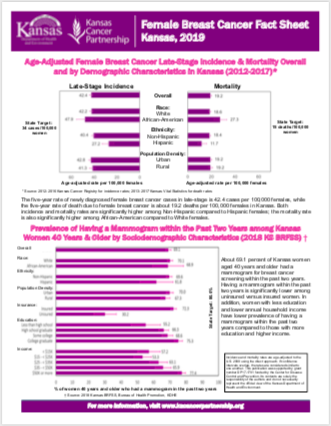 Partnering with the Kansas Dept. of Health and Environment, KHC works with clinical practices to increase cancer screening rates and support prevention efforts. At no cost, KHC provides training, education, and technical support to clinics that serve low-income populations as they implement, track, monitor, and evaluate delivery of care for priority populations.
Female Breast Cancer Facts in Kansas, 2019
The five-year rate of newly diagnosed female breast cancer cases in late-stage is 42.4 cases per 100,000 females, while the five-year rate of death due to female breast cancer is about 19.2 deaths per 100,000 females in Kansas.
Both incidence and mortality rates are significantly higher among Non-Hispanic compared to Hispanic females; the mortality rate is also significantly higher among African-American compared to White females.
About 69.1 percent of Kansas women aged 40 years and older had a mammogram for breast cancer screening within the past two years.
Having a mammogram within the past two years is significantly lower among uninsured versus insured women. In addition, women with less education and lower annual household income have lower prevalence of having a mammogram within the past two years compared to those with more education and higher income.
→ Download the full KDHE fact sheet
Risk Factors for Breast Cancer
→ Breast Cancer Risk Assessment Tool (National Cancer Institute)
A risk factor is anything that increases your chances of getting a disease, such as cancer. But having a risk factor, or even many, does not mean that you are sure to get the disease. While you can't change some breast cancer risk factors—family history and aging, for example—there are some risk factors that you can control.
Getting mammograms regularly lowers the risk of dying from breast cancer. Average-risk women who are 50 to 74 years old should have a screening mammogram every two years. Average-risk women who are 40 to 49 years old should talk to their doctor about when to start and how often to get a screening mammogram, according to the United States Preventive Services Task Force.
No-cost prevention screenings
As part of the Early Detection Works program, free breast screenings are available for qualifying women—see who qualifies here.
Symptoms of Breast Cancer
Here are the common symptoms for breast cancer:
A lump in your breast
Swelling in or around your breast, collarbone, or armpit
Skin thickening or redness
Breast warmth and itching
Nipple changes
Nipple discharge
Pain
Find more detail about these symptoms here at cancer.org.
For Patients — Kansas resources
Early Detection Works
A program from the Kansas Dept. of Health and Environment that offers health education, screenings, diagnoses, and referrals.
Free breast screening for qualifying women—see who qualifies here.
For Patients — National Resources
National Comprehensive Cancer Network — Guidelines for Patients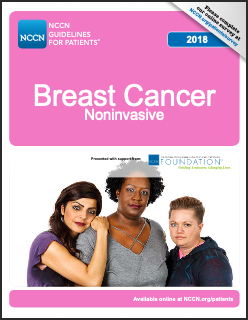 The National Comprehensive Cancer Network (NCCN) provides a detailed guides for breast cancer patients. This guide has more than 100 pages of information on initial diagnosis, stages, treatment, side effects, follow-up tests, and questions to ask.
American Cancer Society
A resource for basic information about cancer, what causes it, as well as in-depth information about specific types of cancer, their risk factors, early detection, diagnosis, and treatment options.
Breastcancer.org
A resource for symptoms and diagnosis, treatment, and side effects, day-to-day matters, and lowering risk. A Spanish-language version of this site is available as well.
Living Beyond Breast Cancer
An education and support organization providing teleconferences, a survivor's help line, and educational materials.
Facing Our Risk of Cancer Empowered
FORCE provides information and support for women who are at high risk or affected by hereditary breast and ovarian cancer.
Young Survival Coalition
A network of breast cancer survivors, supporters, and advocates focusing on issues that concern women with a premenopausal diagnosis.
Triple Negative Breast Cancer Foundation
An organization that aims to raise awareness and support research for triple negative breast cancer patients.
Metastatic Breast Cancer Network
An advocacy network that addresses the unique needs and concerns of women and men who are living with metastatic or Stage IV breast cancer.
BrainMetsBC.ORG
A resource on brain metastases from a patient perspective, interviews with doctors, and information on clinal trials.
Are Your Breasts Dense?
A resource on dense breast tissue and how it can affect a mammogram's ability to detect breast cancer.
For Providers
→ Multicomponent interventions to promote breast cancer screening
For Patients
CDC: Screening for Colorectal Cancer (PDF)
For Providers
→ Multicomponent interventions to promote colorectal cancer screening