Three Kansas hospitals received recognition for their leadership and achievement in quality improvement and patient safety by the Kansas Healthcare Collaborative (KHC). The awards were presented at the organization's annual educational event, Summit on Quality, Friday, October 16. The awards were sponsored by the KaMMCO Foundation.
The KHC Leadership in Quality Awards are presented annually to recognize leadership and innovation in quality improvement and patient safety. Award winners reflect KHC's vision for health care that is consistent with the Triple Aim of improving the health of populations, enhancing the experience of patients, and reducing the per capita cost of care.
The Olathe Medical Center, Olathe, received the Leadership in Quality Award and a cash prize of $5,000 presented by Kendra Tinsley, KHC executive director and Kurt Scott, president of the KaMMCO Foundation.
"KaMMCO and KHC are proud to acknowledge and to reward successful efforts that deliver safe, quality-driven, highly reliable patient-centered care," said Scott. "We applaud your dedication and commitment to Kansas patients and the communities where they live and work."
Tinsley added, "we celebrate the great work happening across Kansas in the areas of quality and performance improvement. KHC recognizes the individual commitment to the collective cause and appreciates the investment of time, energy and talent to ensure safety for Kansas patients."
The 2015 Leadership in Quality Award winner:
Olathe Medical Center Team
Olathe Medical Center, a 300-bed acute care, full service hospital, is recognized for fulfilling its promise to the community, its employees, and the patients and families it serves. With guidance from the Board of Trustees, the Patient Care Personnel Committee, and the Community Advisory Council, Olathe Medical Center consistently evaluates opportunities for improvement, utilizes discussions to expand in-demand services for its community, and attracts a dedicated workforce. A commitment to national quality improvement collaboratives and the utilization of new technology continues to expand their connection with their community.

In addition, two hospitals received an Award of Merit, including: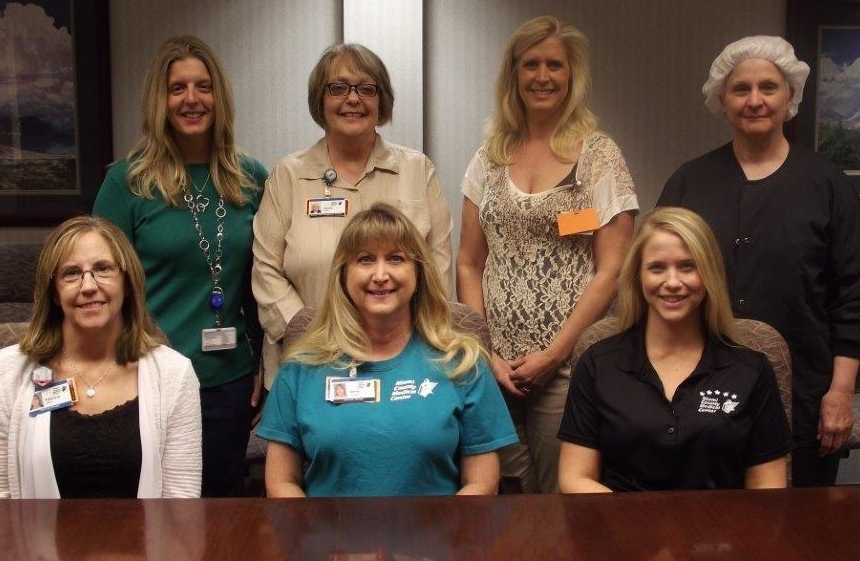 Miami County Medical Center Team
Miami County Medical Center, Paola, a small urban acute care facility, seeks to improve the health of its community, engage the patients and families it serves, and invest in human resources to ensure patient safety. They have demonstrated leadership in earning designations such a level IV trauma center and stroke ready hospital. In addition, current programs focus on reducing readmissions and falls, and encouraging use of technology and electronic records. The Paola community is a recipient of its attention to population health through development of a local trails system, purchase of concussion helmets for football programs, and distribution of children's bicycle helmets.

Via Christi Hospital Pittsburg Team
Via Christi Hospital – Pittsburg, delivering health care to the community for more than a century, the hospital has focused on becoming a high reliability organization. Prevention of serious safety events is a focal point for evaluating every incident, reaching the goal of zero in 2015. Creation of the Board Quality and Performance Improvement Committee has served as a collection point for reports on topics such as patient satisfaction and fall prevention; the information is reviewed and recommendations are made as needed. A recently formed patient and family advisory council is providing fresh perspective and enhancing patient care.

KHC is a provider-led 501(c)3 organization with a mission to transform health care through patient-centered initiatives that improve quality, safety and value. Founded in 2008 by the Kansas Hospital Association and the Kansas Medical Society, KHC embodies the commitment of two of the state's leading health care provider groups to act as a resource and continuously enhance the quality of care provided to Kansans. For more information about the Kansas Healthcare Collaborative and its initiatives, visit www.khconline.org.