July 24, 2019
10:00 - 11:00 a.m. CT
Kansas hospitals participating in the KHC Hospital Improvement Innovation Network (HIIN) are encouraged to attend our monthly virtual meetings, usually held the fourth Wednesday of each month from 10 to 11 a.m. CT.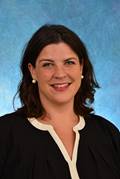 Tara Bristol RouseThis month, our featured topic is "Beyond the Metrics: Implementing PFE Strategies that Improve Quality and Safety." Special guest will be Tara Bristol Rouse, a patient and family engagement project consultant for the American Hospital Association Center for Health Innovation. Tara supports PFE strategy and provides technical assistance and subject matter expertise to the Health Research & Educational Trust HIIN. During this presentation, we will briefly review the HIIN PFE metrics, discuss ideas and alternatives for implementation of PFE strategies that address quality and safety issues that are a top priority for hospital leadership.
We hope you will join us to stay in the know about the project, progress to date, next steps, resources and opportunities in quality and patient safety.