Partnering with the Kansas Dept. of Health and Environment, KHC works with clinical practices to increase cancer screening rates and support prevention efforts. At no cost, KHC provides training, education, and technical support to clinics that serve low-income populations as they implement, track, monitor, and evaluate delivery of care for priority populations.
Local resources
Early Detection Works
A program from the Kansas Dept. of Health and Environment that offers health education, screenings, diagnoses, and referrals.
National Resources
National Comprehensive Cancer Network — Guidelines for Patients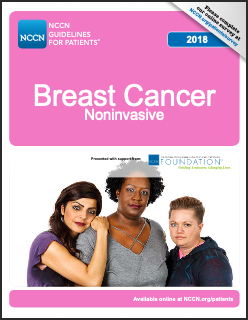 The National Comprehensive Cancer Network (NCCN) provides a detailed guides for breast cancer patients. This guide has more than 100 pages of information on initial diagnosis, stages, treatment, side effects, follow-up tests, and questions to ask.
American Cancer Society
A resource for basic information about cancer, what causes it, as well as in-depth information about specific types of cancer, their risk factors, early detection, diagnosis, and treatment options.
Breastcancer.org
A resource for symptoms and diagnosis, treatment, and side effects, day-to-day matters, and lowering risk. A Spanish-language version of this site is available as well.
Living Beyond Breast Cancer
An education and support organization providing teleconferences, a survivor's help line, and educational materials.
Facing Our Risk of Cancer Empowered
FORCE provides information and support for women who are at high risk or affected by hereditary breast and ovarian cancer.
Young Survival Coalition
A network of breast cancer survivors, supporters, and advocates focusing on issues that concern women with a premenopausal diagnosis.
Triple Negative Breast Cancer Foundation
An organization that aims to raise awareness and support research for triple negative breast cancer patients.
Metastatic Breast Cancer Network
An advocacy network that addresses the unique needs and concerns of women and men who are living with metastatic or Stage IV breast cancer.
BrainMetsBC.ORG
A resource on brain metastases from a patient perspective, interviews with doctors, and information on clinal trials.
Are Your Breasts Dense?
A resource on dense breast tissue and how it can affect a mammogram's ability to detect breast cancer.