KHC is pleased to welcome three new team members to further its hospital- and practice-based quality improvement initiatives.
Patty Thomsen and Rebecca Thurman join KHC as Quality Improvement Advisors for the Kansas PTN. Like our other three QIAs, Patty and Rebecca will work with you to assess clinical performance, identify gaps in best practices, recommend improvement methods to refine patient care procedures, track quality outcomes, and otherwise aim to best serve your needs.
Patty's background includes more than 25 years in the health care industry. Most recently she worked as remote nurse reviewer for Health Data Vision, which is based in Glendale, Calif. Before that she was Vice President of Medical Clinics for Coffey Health System in Burlington, where she worked to ensure safe, effective, and fiscally responsible delivery of care and oversaw management of five family practice clinics, an orthopedic clinic and an outpatient multi-specialty clinic. She has also worked in several roles at Newman Regional Health in Emporia, as a family practice clinic nurse, and as a school nurse.
Patty holds a Bachelor of Science degree in Nursing from the University of Kansas. She is a Registered Nurse and Certified Case Manager.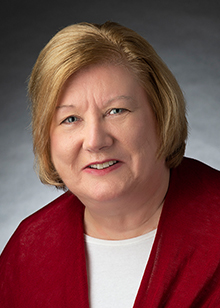 Rebecca also joins KHC as Quality Improvement Advisor for the Kansas PTN. Her background includes nearly 30 years in the health care industry. Most recently she worked for 11 years at the Coffey Health System in Burlington, including as Director of Compliance and Risk Management/HIPAA Privacy Officer, ensuring compliance with federal and state regulations, investigating and reporting risk events, and investigating potential breaches of confidentiality. Before that she also worked as the hospital's Director of Quality Improvement, working to enact policies and procedures aimed at improved patient care and satisfaction. She has also worked at the Kansas Foundation for Medical Care and at the Shawnee County Health Agency in quality improvement roles.

Rebecca holds Bachelor of Science degrees in Medical Records Administration and in Allied Health Administration from Southwestern Oklahoma State University in Weatherford, Okla. She is also a Registered Health Information Administrator.
Also recently joining KHC as its Communications Manager is Phil Cauthon. He will work to augment KHC's efforts to improve health care quality in Kansas by broadly communicating success stories and otherwise championing patient-centered initiatives that improve quality, safety, and value. This work will include telling success stories from our PTN partners around the state. Phil will be working with the QIAs and clinic contacts to identify and tell these stories through social media, newsletters, traditional media, and otherwise. Phil's background includes 18 years in journalism, brand and identity management, and corporate communications, including eight years health communications. Most recently he worked at Sunflower Foundation in Topeka as the health philanthropy's Director of Communications, overseeing messaging to grantees, partners, stakeholders, and other audiences via traditional and social media. Before that he worked at the Kansas Health Institute, where he was a reporter, digital editor, and communications coordinator. He has also worked at the Lawrence Journal-World, the Topeka Capital-Journal, and the Houston Chronicle's Washington D.C. bureau.
Phil holds a Master of Science in Journalism from the University of Kansas. He also holds Bachelor of Arts degrees in Spanish and in International Studies from the same university.