Clinician Quality Improvement Contractor (CQIC)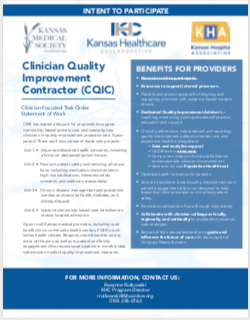 CMS has issued a request for proposals to support community-based primary care and specialty care clinicians in quality improvement projects over a 5-year period. There are 4 focus areas of these new projects:
Aim 1 • Improve behavioral health outcomes, including a focus on decreased opioid misuse.
Aim 2 • Focus on patient safety and reducing all-cause harm including medication documentation, high-risk medications, dementia safety concerns, and antibiotic stewardship.
Aim 3 • Chronic disease management and prevention (cardiac and vascular health, diabetes, and kidney disease).
Aim 4 • Improve community-based care transitions to reduce hospital admission.
Open to all Kansas medical providers, including rural health clinics, community health centers, FQHCs, and Indian health centers. Requires commitment to one or more of the aims as well as to patient and family engagement. Also requires participation in monthly data submission on select quality improvement measures.
In support of these efforts, KHC is part of a pending proposal.



→ For more information, contact your Quality Improvement Advisor or
KHC Program Director Rosanne Rutkowski, MPH, BSN, RN
at This email address is being protected from spambots. You need JavaScript enabled to view it. or (785) 235-0763.